Corporate Responsibility
ACE FACILITY MANAGEMENT influences the lives and livelihood of many people through providing employment and training, as well as providing safe and healthy work environments for thousands of employees and customers in the facilities/properties we service.
Our CR strategy supports our vision to do the right thing for our clients, our people, our communities and the environment. It is founded on the guiding principles of upholding high professional standards, being transparent, trusted and fair, fostering a culture of partnership and collaboration. We value the longer term consequences of our decisions, and leading by example to create a more sustainable future for everyone.
Framework – Corporate Responsibility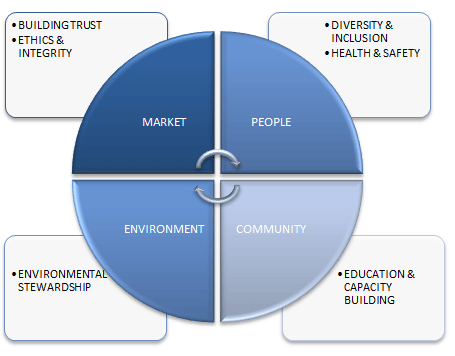 Community & People
We create value for our people and clients by promoting diversity, fostering a culture of inclusion and supporting a healthy work – life balance. This helps us attract and retain the best talent, too. ACE FMPL has a mandate to hire a minimum percentage of differentially abled staff and staff from minorities and backward castes. Equal opportunities exist in the organisation for all employees and efforts are made through various training programs and through the inherent organisational culture to sensitize employees to the hardships faced by the lesser privileged.
Ensuring fair and equal treatment and no discrimination or harassment
Supporting minimum wages and compliance with work time regulations
Avoiding use of child labour as well as forced or compulsory labour
We create value for our local communities by using our people's time, skills and experience to make a lasting difference. This also inspires and engages our people, enriching careers and skills, and enhancing retention. ACE FMPL provides livelihood to more than 4000 families of unskilled workers across 12 cities in India. We have taken part in charity cleaning activities for NGO's and Non Profit institutions working for good causes.
Environment
We recognise that our long-term sustainable business success depends on a high level of corporate responsibility, as we face global challenges such as deprivation of the natural environment, poverty, illiteracy, water shortages and urbanisation. These are areas within which ACE FMPL can contribute to solutions.

ACE FMPL has made a strong commitment as a corporate member of the INDIAN GREEN BULIDING COUNCIL since 2009. In line with the membership regulations, we are committed to aligning our strategy and business with the vision of IGBC "To enable a sustainable built environment for all and facilitate India to be one of the global leaders in sustainable built environment by 2025."
Our attention to environmental, social and economic responsibility includes working within the law and voluntarily exceeding legal requirements in order to be innovative and demonstrate leadership on the issues that are important to us and our stakeholders. As we execute services and evaluate our success we are able to choose every day in big and small ways how our actions and words build a better quality of life for our employees, clients, and suppliers.
Objectives for Environmental Stewardship
We commit to:
Minimize environmental impacts in the areas of waste, water, energy and air quality.
Give back to communities by volunteering and donating resources.
Ensure our supply chain has responsible social and environmental practices.
Create innovative approaches to minimize negative environmental impacts, improve economic bottom lines and integrate the social elements in to delivering meetings.
Market – Integrity/Ethics
At ACE, we believe that operating in a responsible and ethical manner is essential to our business. This belief in Values-Based Decision Making underlies everything we do, and supports the delivery of our business strategy. We are committed to earning the trust of our stakeholders, both internal and external, by delivering on our promises as employees and as a company. In doing so, we foster an environment where people feel safe to speak up and identify areas for improvement, as well as issues of concern. Trust is the key to our good reputation, and crucial to our company's success.
We are committed do:
Conducting our business in a lawful manner
Competing for business on fair terms and solely on merits of our services
Combating corruption and bribery
Carrying out our activities according to principles of good corporate governance
Ensuring that the social, environmental and ethical commitments of ACE are reflected in dealings with customers, suppliers and other stakeholders
ACE policies, including those described in this Code of Conduct, apply to employees and outsourced staff at all levels of the company, regardless of their position. Failure by any employee to comply with this Code of Conduct, ACE policies, or legal and regulatory requirements applicable to their role with the company will subject them to disciplinary action up to and including termination from employment. Outsourced worker disciplinary issues will be dealt with via their employer's disciplinary codes, which ACE will ensure are consistent with ACE Values as reflected in this Code of Conduct. Company management and Human Resources are responsible for overseeing appropriate disciplinary actions in line with company discipline standards, as allowed by local labour laws.